The Ultimate Vegan Easter Chocolate Review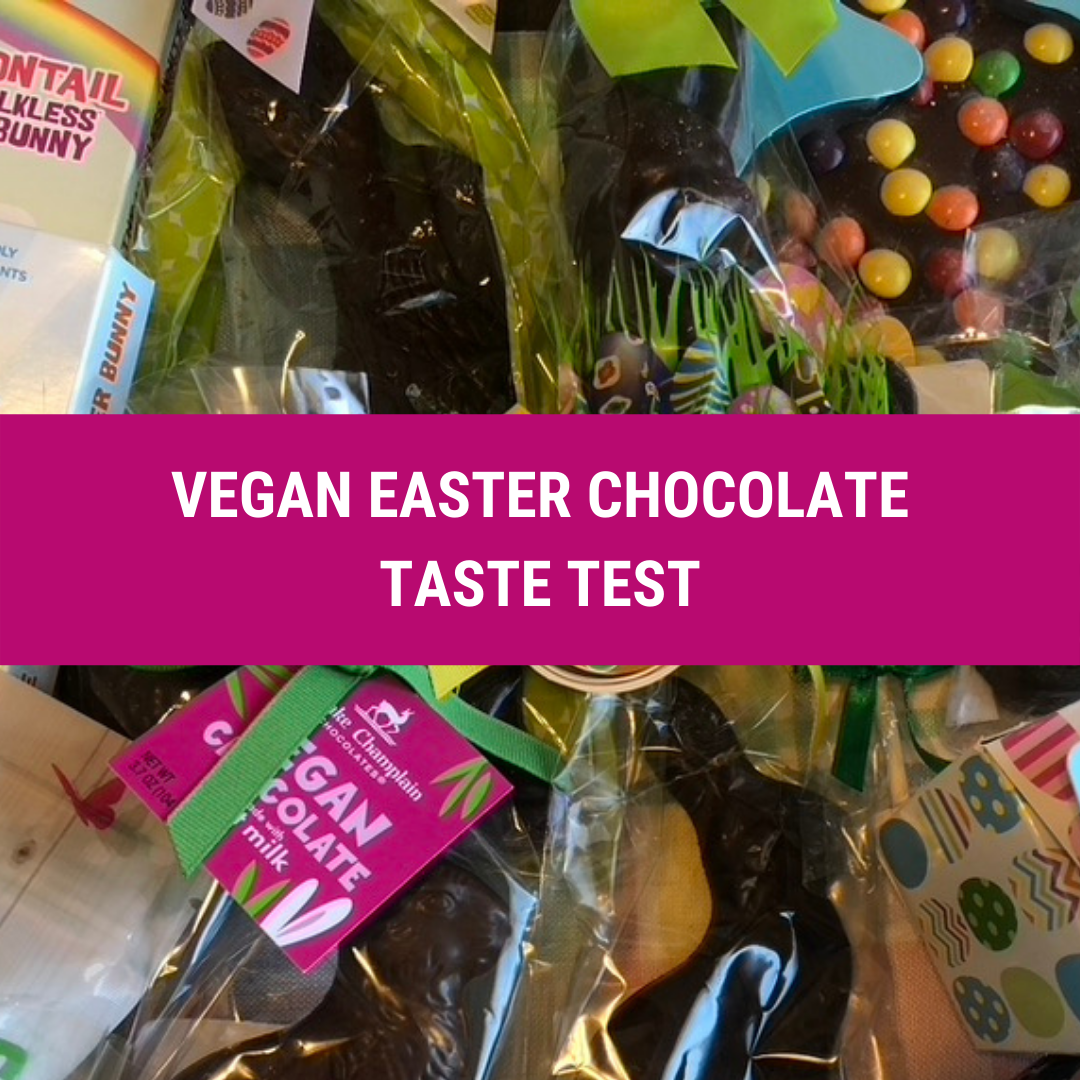 Email Signup
If you're interested in getting email notifications about my new content, fill out and submit the signup form below.
Introduction
This Easter season, I enjoyed making two Easter taste tests. The first one was on vegan Easter snacks, while this one is an excellent guide on helping you pick out the best vegan Easter chocolate possible. There are a few St. Patrick's Day chocolates in here due to not doing my regular St. Patrick's Day taste test.
Here are the results of my vegan Easter chocolate reviews.
Amanda's Own Confections Shamrock Bag (7.5/10)
The taste test winner was Amanda's Own Confections shamrock bag filled with chocolate four-leaf clovers. They came in light and regular green wrapping. My main issues with this chocolate were the hole in the original wrapping and the chocolate being a little too hard. Otherwise, it tasted sweet and great like regular milk chocolate, except it was vegan.
Cocoba Vegan Bunny Chocolate Bar Set (7/10)
My favorite Easter chocolate bunny was the Cocoba vegan bunny chocolate set. It came with two chocolate bunnies: one with Skittles or something equivalent on top and the other covered with colored sprinkles. The Skittles one had an overpowering candy taste, while the other had too many sprinkles. The chocolate was okay. I wouldn't randomly pick this option in the store unless it was for a taste test like this, but I was surprised how high this was rated compared to the others.
No Whey Chocolate Milkless Surprise Eggs (6.5/10)
I'm not a No Whey Chocolate fan, but their Milkless Surprise Eggs were decent. I had a sanitary issue with them putting the chocolates directly in the eggs instead of wrapping them up in packaging first. The bunnies looked like mice because their ears were too small. It was overly sweet but not unbearable.
Lake Champlain Organic Dark Chocolate Coins Bag (6/10)
The runner-up out of the St. Patrick's Day candies was Lake Champlain chocolate coins. I ended up eating the entire bag. The dark chocolate was a wee bitter but tolerable for someone who's not used to dark chocolate.
Amanda's Own Confections Cross Lollypop (5.8/10)
Amanda's Own Confections chocolate cross lollipop would be a good option for Easter and First Communion. It broke in transit, so it was missing the top part of the cross. This chocolate and the rest of Amanda's Own Confections options were too bitter for me, but I bet my family members who like dark chocolate enjoyed this.
Amanda's Own Confections Shamrock Lollypop (5.75/10)
The final St. Patrick's Day chocolate in this bunch was Amanda's Own Confections shamrock lollipop. Most of it broke in transit, so I felt like it was a chocolate puzzle over a shamrock, let alone a chocolate lollipop.
No Whey Chocolate Cottontail The Milkless White Bunny (5.5/10)
The runner-up chocolate bunny was No Whey Chocolate Cottontail The Milkless White Bunny, made out of vegan white chocolate. The packaging was minimal, and somehow, the chocolate bunny wasn't harmed while being shipped to my house. The taste was pretty faint, a little sweet, and okay otherwise. This was my first experience of having vegan white chocolate, and having others before tasting this would have significantly impacted my review of this white chocolate bunny.
No Whey Chocolate Jake the Milkless Easter Bunny (5/10)
No Whey Chocolate Jake the Milkless Easter Bunny was a vegan milk-chocolate bunny. I don't get why it had plastic wrapping when the white chocolate bunny had cardboard wrapping. This fell apart during shipping. As expected, the milk chocolate had a weird taste, but the recipe has improved since my vegan Halloween taste test.
Amanda's Own Confections Big Sitting Bunny (4.8/10)
The Big Sitting Bunny was my favorite chocolate bunny out of the ones by Amanda's Own Confections. About all of this brand's candy had super bitter dark chocolate, but I decided this was the best of this brand's bunnies due to the candy artwork. This is the most realistic-looking bunny and reminds me of the bunny artwork seen with many common candy brands.
Lake Champlain 5″ Classic Dark Organic Bunny (4.75/10)
I tried two of Lake Champlain's chocolate bunnies, and I preferred the dark chocolate one over the oat milk bunny. This bunny, in particular, was pretty bitter with a bad aftertaste.
Lake Champlain Classic Oat Milk Bunny (4.5/10)
Lake Champlain's oat milk bunny was one of the many examples of why oat milk is gross and how products made with it are doomed to fail. I must be the minority with that opinion because it's the most popular plant-based milk alternative (or at least in 2021/2022) and a pretty everyday pantry staple in vegan and non-vegan homes. I believe that oat milk tastes like awful-flavored water.
With this chocolate bunny, the taste is pitiful with a disgusting aftertaste. The main reason why this wasn't the worst bunny around was due to the nice chocolate bunny mold looking so great.
Amanda's Own Confections Bashful Bunny (4.45/10)
I know art is a matter of opinion, but Bashful Bunny is extremely ugly. It seemed like a first-grader drew this, and the chocolate mold was made after erasing all of the extra lines the kid made. Just a reminder, most of the vegan options at Amanda's Own Confections are very bitter, too much for a milk-chocolate lover like me.
Amanda's Own Confections Bunny & Friends Bag (4.4/10)
Bunny & Friends Bag would be lovely for an Easter party bowl or distributing in class if they tasted better. The chocolate shapes were horrible because the bunny looked more like a cat with chubby cheeks than a real bunny.
Amanda's Own Confections Baby Bunny (4.3/10)
Baby Bunny looked like a stenciled, sort-of-flat football. The bunny looked more like an adult than a baby bunny. It ended up being extremely bitter and a little weird tasting.
Amanda's Own Confections Happy Easter Egg Box (4.25/10)
The worst product I tried out of Amanda's Own Confections was the Happy Easter Egg Box. The artwork and packaging were lovely, but I felt like I was eating rocks. It tasted a little stale, quite bitter, and almost too hard to be considered edible.
No Whey Chocolate Deep Chocolate Brownie Egg (4/10)
Last place went to No Whey Chocolate Deep Chocolate Brownie Egg. It tasted like a super stale Ho Ho. The chocolate was fine, but it needs a lot of improvement.
Conclusion
I was very disappointed with the vegan Easter chocolates I tried. Most of them were awful and a waste of my money. You may also like my previous taste tests from Thanksgiving, Christmas, and Valentine's Day. Have a great Easter!