Vegan Valentine's Day Product Reviews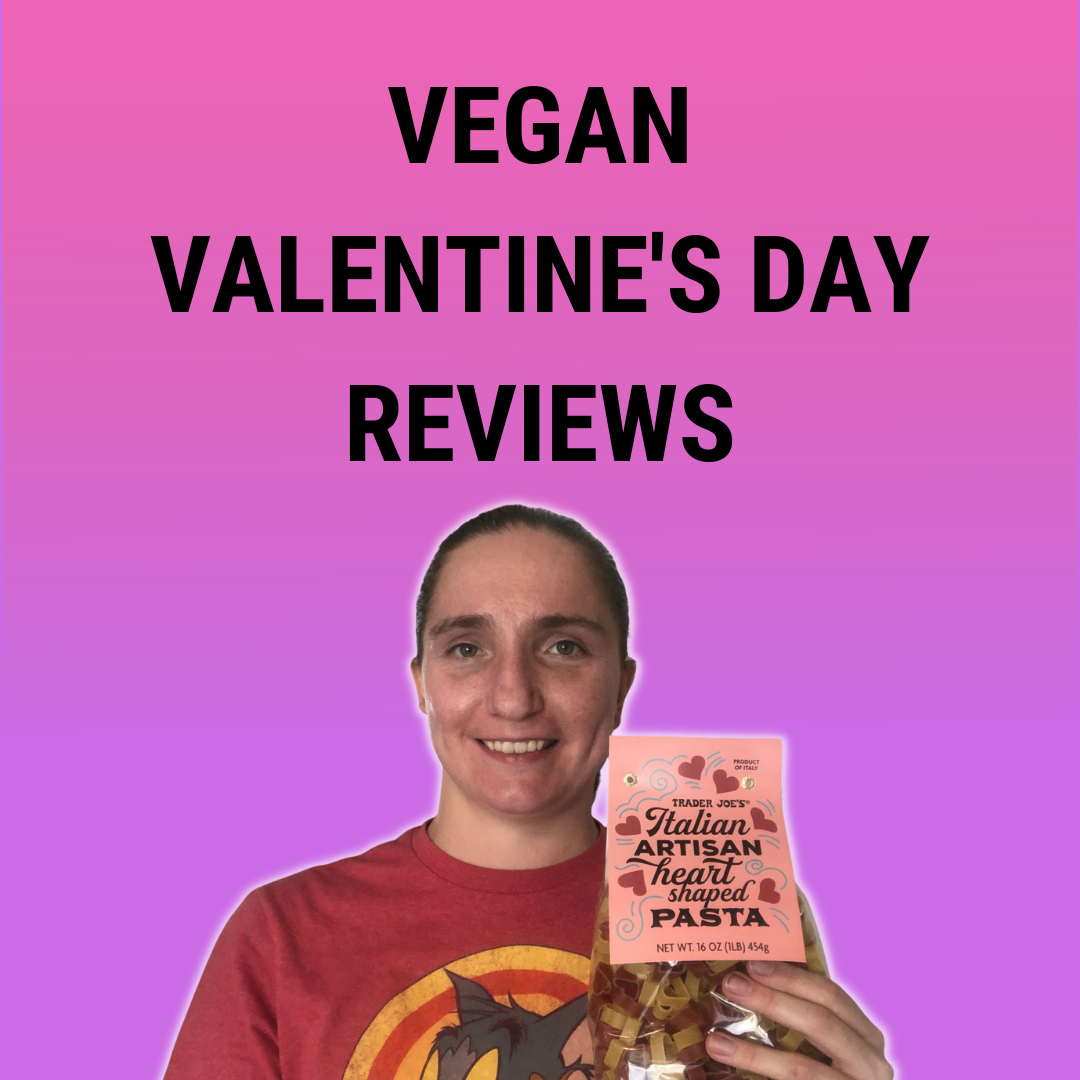 Email Signup
If you're interested in getting email notifications about my new content, fill out and submit the signup form below.
Introduction
I tried an array of vegan Valentine's Day products in my first Valentine's Day taste test. Here is what I think of them. I hope you enjoy it!
Trader Joe's Heart Pasta (9/10)
Trader Joe's Valentine's Day pasta was delicious. My main complaint was the colors of the pasta. Instead of using tomato powder and beet powder to make a pinkish color and a regular-colored pasta, it would have been more thematic to use tomato powder for red pasta, beet powder for pink pasta, and then used as bleached of pasta as possible to make one color be white.
Lake Champlain Chocolate Raspberry Truffles (8/10)
Lake Champlain chocolate raspberry truffles were surprisingly delicious and had a nice raspberry and chocolatey taste. I originally thought I wouldn't like it because it had coconut cream in the center, but I'm glad to be wrong.
YumEarth Pops (7/10)
YumEarth Valentine's Day lollipops weren't too bad. However, they tasted a lot more like fruit punch than the strawberry flavor it was supposed to be.
Lake Champlain Dark Chocolate Hearts (6.5/10)
Lake Champlain dark chocolate hearts were okay enough to eat the entire packet but not good enough to buy them again. They were a little too bitter in my book.
Sambazon Açaí Bites (6.25/10)
Sambazon açaí bites reminded me of a frozen version of Hostess HoHos, except vegan and with a fruity flavor. It was quite messy and wasn't that impressive.
Supernatural Full of Heart Sprinkles (6/10)
Supernatural Valentine's Day sprinkles were big and crunchy. I don't get why it had yellow in the sprinkle mix unless it was a branding thing. It didn't look that thematic with the holiday.
No Whey Foods Heart Chocolate Lollipop (5.75/10)
No Whey Valentine's Day chocolate lollipop was pretty sad. The wrapping looked super cheap, and the chocolate tasted gross.
Endangered Species Tart Raspberries and Dark Chocolate Bar (5.5/10)
Endangered Species raspberry dark chocolate bar was pretty bitter. It had raspberries in it, but it seemed more like super sugary raspberry pieces over fresh ones.
Endangered Species Vibrant Cherries and Dark Chocolate Bar (5.25/10)
Endangered Species cherry dark chocolate bar was pretty bitter with a faint cherry flavor. Don't be discouraged by my poor rating because my mom (a cherry and dark chocolate lover) devoured it right after I gave my family some of the candy from this review.
Endangered Species Oat Milk and Dark Chocolate Bar (5/10)
Endangered Species oat milk dark chocolate bar was a disgrace and the worst chocolate I had from this bunch. It was bitter and tasted like it had peanut butter in taste and texture when that wasn't in there.
Forager Project Strawberry Cereal (4/10)
Forager Project strawberry cereal was pretty stale and barely had a strawberry taste. I wasn't surprised to learn that it was almost past the expiration date.
O'My Strawberry Gelato (3.5/10)
O'My strawberry gelato was rather disappointing. The coconut cream was way too strong and overpowered the strawberry. I would double or maybe even triple the strawberry flavor. Note that I tried it after it passed the expiration date, so it might taste better before that.
YumEarth Gummy Fruits (3/10)
YumEarth Valentine's Day fruit snacks were the worst food in this taste test. They tasted like generic, cheap fruit snacks because they seem spoiled and too hard in texture.
Conclusion
This taste test wasn't too bad. If you liked this, you may enjoy my future taste tests for St. Patrick's Day, Easter, and grad party season and a previous one I did for Christmas. Have a great Valentine's Day!