50 Vegan Soup Recipes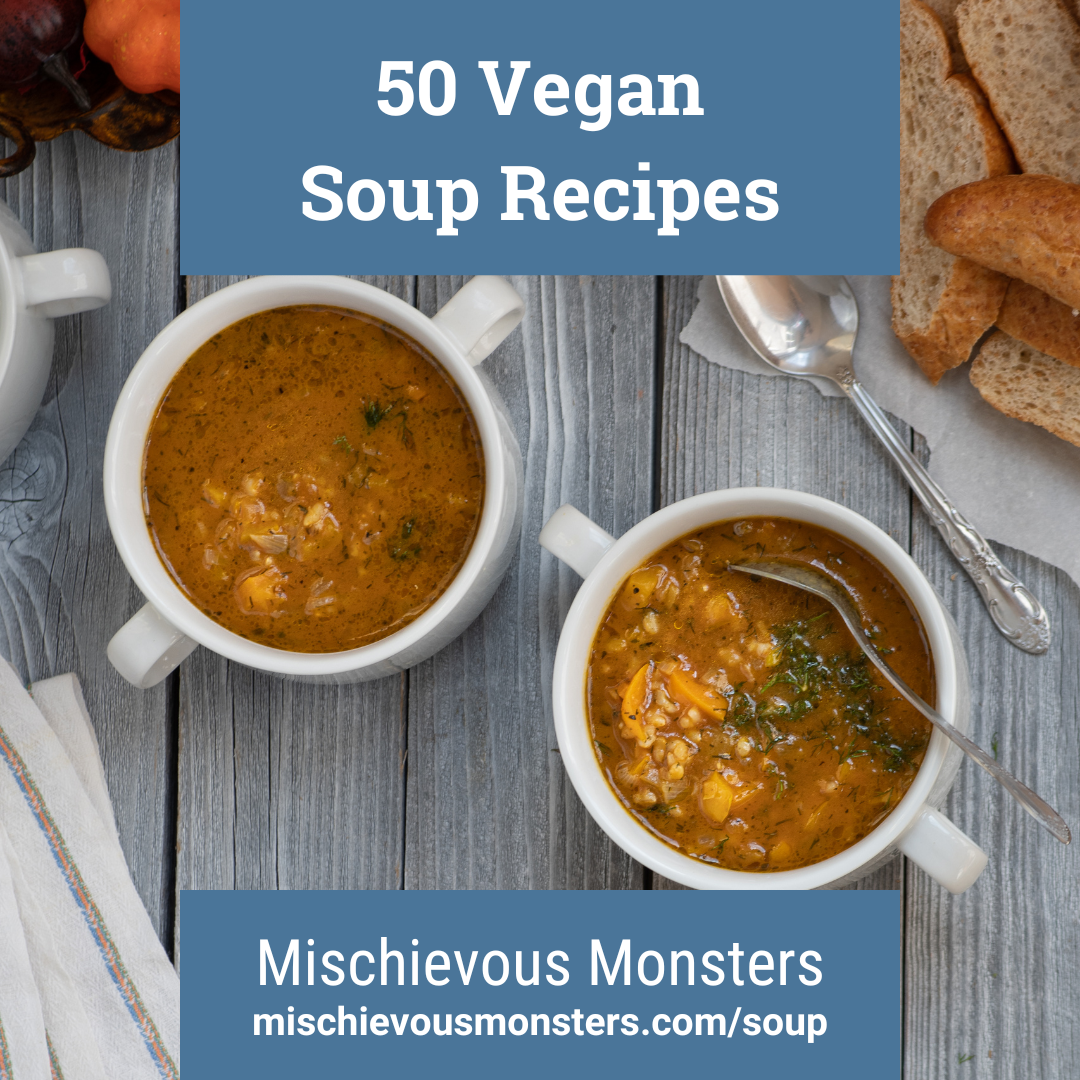 Introduction
What is your definition of hygge? I wish to sit beside a warm fireplace with a fuzzy blanket, hot cocoa, and homemade soup.
No matter how familiar you are with hygge, most can agree that soup gives you a feeling of comfort and warmth. For example, soup can improve the day when it's crummy outside.
Try these vegan soup recipes today.
---
1. Lentil Tortilla Soup
One of my go-to soups is this lentil tortilla soup from Midwest Foodie.
If you want to make this recipe vegan, garnish it with vegan sour cream because regular sour cream contains dairy.
---
2. Sauerkraut Soup
I never grew up with sauerkraut at home. It is a popular topping on hotdogs and brats.
If you want to try it, here's sauerkraut soup from Cultured Guru.
To make this completely vegan, use maple syrup as the sweetener over honey. Also, top the soup with cashew cream or vegan yogurt to keep it dairy-free.
---
3. Cream of Kohlrabi Soup
You can cook kohlrabi, similar to regular potatoes and cauliflower. I've seen this sold at Amish auctions, Target, and Hy-Vee.
Have cream of kohlrabi soup from Yup, It's Vegan.
---
4. Tom Yum
When I was in Chicago on my senior high school trip, my friends and I ate at a restaurant in Chinatown. The server brought us a thing of bean sprouts to go with our meals, and the locals gave us weird looks because we ate them like potato chips.
If you like different Asian cuisines, tom yum is a Thai hot and sour soup. Make tom yum with the help of WoonHeng.
---
5. Beet Soup
One of my favorite people to follow on Twitter is Catherine McBride. Before making a recipe, she has people guess the key ingredient, from aloe to persimmons. It reminds me that there are so many ingredients that I either ignore in the store or don't have locally.
If you want to make something with beets, here's a beet soup from Bianca Zapatka. If you prefer to make something else, make these beet recipes.
---
6. Ayoyo Soup
Since I dedicated a blog post to African recipes, I have discovered many new dishes I should incorporate into my kitchen.
One example is this ayoyo soup from The Canadian African, made from jute leaves. This ingredient is frozen or fresh at African or Middle Eastern grocery stores.
---
7. Cabbage Roll Soup
The lunch workers were a little sneaky at adding cabbage to our food. They mainly added mixed greens to our salad bar, which worked well.
If you like cabbage, make cabbage roll soup from Vegan Yack Attack. Incorporate more cabbage recipes into your cooking routine.
---
8. Meatball Parm Soup
After going vegan, I missed having Subway's meatball marinara subs. Nowadays, Subway does carry a vegan meatball marinara sub in some locations, and I know how to make one at home.
In terms of soup, make this meatball parm soup from Vegan Travel Eats.
---
9. Sweet Potato Bisque
When I was a kid, my dad used to get sweet potato plants from the Amish to put in the garden. Even though we hardly got any sweet potatoes from them due to our lack of weeding, trying is better than nothing.
If you like sweet potatoes, try some sweet potato bisque from Sweet Potato Soul. Here are more sweet potato recipes.
---
10. Kabocha Squash Soup
Kabocha is a type of winter squash that is native to Japan. Even though I'm unfamiliar with it, I need to try it sometime.
If you want some, make kabocha squash soup with the help of Well Vegan. You may be interested in these winter squash recipes.
---
11. Harira
Harira is a traditional Moroccan soup that tends to be served during the Islamic holiday of Ramadan. You can make some harira at home with the help of Supergolden Bakes.
---
12. Minestrone
Olive Garden makes delicious minestrone, but I would rather have it at home over eating out. If you prefer homemade, here's a minestrone recipe from Nora Cooks.
---
13. Beer Cheese Soup
I am a teetotaler, which means I never drink alcohol. However, I still drink fun beverages, like non-alcoholic wines. Non-alcoholic beer exists, but I haven't had it before.
If you have a favorite beer, use it in this beer cheese soup from Plant Power Couple.
---
14. Fennel Soup
Whole fennel looks like a combo of three veggies: asparagus leaves and celery stalks growing on a white onion. I need to get one at Hy-Vee sometime.
If you like fennel, make fennel soup with the help of Connoisseurus Veg.
---
15. Cream of Celery Soup
March is National Celery Month, so you still have time to figure out more ways to use celery.
Regarding soup, here is some cream of celery soup from The Hidden Veggies.
---
16. Korean Tofu Soup
Don't underestimate the power of tofu. Yes, it looks like a measly white sponge, but it is so versatile in the world of cooking.
If you like Korean food, try tofu soup, a recipe by Choosing Chia.
---
17. Gnocchi Soup
I tried making gnocchi once, and it was a disaster. I am grateful that premade gnocchi is available at the store, but I haven't tried it yet.
If you like gnocchi, make gnocchi soup from FoodByMaria.
---
18. Serbian White Bean Soup
My long-term goal is to run my own business. If that happens, I could travel more than two weeks per year. I am unfamiliar with Serbia and Eastern Europe, but I should visit there sometime.
Make Serbian white bean soup with the help of Ve Eat Cook Bake.
---
19. Carrot Ginger Soup
I wouldn't say I like buying whole ginger from the store because I tend to forget it is there whether I keep it in the fridge or freezer.
If you're a fan of incorporating ginger into your cooking, have this carrot ginger soup from Make It Dairy Free.
You may like these carrot recipes if you're more of a carrot person.
---
20. Ten-Vegetable Soup
The ten-vegetable soup was my go-to order at Panera before they took it off their menus. That makes their vegan menu look super lame. Congratulations on having no real vegan options besides removing ingredients from regular dishes.
If you prefer homemade, here's a ten-vegetable soup recipe from Thank You Berry Much.
---
21. Broccoli Cheese Soup
Before I became vegan, my favorite meal from Wendy's was their broccoli cheese stuffed potato. Since then, they have removed it from their menu.
For a vegan alternative, make broccoli cheese soup with the help of Karissa's Vegan Kitchen.
---
22. Acorn Squash Soup Bowls
I found a Twitter user that finds creative ways to dish food. Recently, they served a salad on a shovel blade.
Instead of soup bowls, have acorn squash fall bowls from Minimalist Baker.
---
23. Peanut Soup
At my previous job, one of the engineers asked where they could buy raw peanuts because they wanted to make curry. That was a legitimate question due to moving from the East Coast to small-town Iowa. The answer ended up being Hy-Vee.
If you like peanuts, here's peanut soup from Nora Cooks.
---
24. Wonton Soup
I am surprised that regular egg roll and wonton wrappers are vegan, with Certified Vegan logos.
If you want to try wontons, make wonton soup with the help of WoonHeng.
---
25. White Lasagna Soup
Lasagna is one of my favorite comfort foods, but I don't dedicate enough time to make it.
If you like lasagna, here is white lasagna soup from Rabbit and Wolves.
---
26. Menudo
In high school, one of my Spanish teachers dared to take both Spanish 2 classes to a local Mexican restaurant for lunch. The main issue was it took forever for everyone to pay.
If you like Mexican food, make menudo with the help of Dora's Table. You may also like these Mexican recipes.
---
27. Mulligatawny
My family and I ate at an Indian pizza chain called Bombay Pizza the last time we visited my siblings in the Twin Cities. I didn't want to eat too spicy of food since I didn't want to risk getting diarrhea with a few hours to drive home.
I got a cheeseless veggie pizza, which tasted different than I expected but not too bad.
In terms of Indian soups, try mulligatawny from Holy Cow Vegan.
---
28. Alphabet Soup
As a kid, alphabet soup seemed like a lot of fun because kids on TV shows made words with their soup. Growing up, my parents only got regular Campbell's chicken noodle soup, but a kid could dream.
For a homemade version, here's an alphabet soup recipe from It Doesn't Taste Like Chicken.
---
29. Asparagus Soup
I love my asparagus patch. I have too much asparagus, so I don't mind when my parents and siblings steal some from my garden.
If you like asparagus, make asparagus soup from Clean & Delicious.
---
30. Pizza Soup
When I was in elementary school, we did fundraisers where if you raised a certain amount, you skipped part of the school day to ride in a limo to Pizza Hut and eat at the buffet with other area kids. That was a great time.
All pizza lovers should make this pizza soup from Bianca Zapatka. You may also like these pizza recipes.
---
31. Tuscan Kale Soup
When I was in college marching band, we traveled to Florence and Rome to perform in Rome's New Year's Day parade. I had a lot of great Italian dishes during my stay, but I have to go back because I went there before I became vegan.
If Italian food is up your alley, make Tuscan kale soup from Connoisseurus Veg.
---
32. French Onion Soup
My favorite Pringles flavor is Sour Cream & Onion, although I wouldn't say I like onions and sour cream alone. Unfortunately, that is off my snack list due to containing dairy.
Try this French onion soup from Make It Dairy Free if you like onions.
---
33. Avgolemono
Avgolemono is Greek lemon rice soup.
For all the lemon fans, here's a vegan avgolemono recipe by FoodByMaria. You might also like these lemon recipes.
---
34. Butternut Squash Soup
The only food allergy or intolerance that I have is butternut squash dermatitis. In other words, I must wear rubber gloves when handling raw butternut squash, or else it burns my hands.
If you're in the mood for some butternut squash, here's butternut squash soup from Rachel Steenland.
---
35. Cream of Chicken Soup
Campbell's has made some steps in the right direction by adding more vegetarian and vegan soups to stores with its Well Yes! product line. Even though their noodles contain eggs, there are soups without noodles that vegans can enjoy, like Plant Based Chick'n With Rice Soup.
If this sounds good, here's a vegan cream of chicken soup recipe from The Hidden Veggies.
---
36. Pumpkin Soup
Pumpkin is a problematic ingredient to bake because it makes everything moister. For example, it takes longer to bake pumpkin bread unless there is some secret ingredient or baking tip I don't know.
In terms of soup, try pumpkin soup from Jessica in the Kitchen. Here are more pumpkin recipes.
---
37. Dduk Guk
Dduk Guk is a Korean rice cake soup. Make dduk guk with the help of Veggiekins.
---
38. Stuffed Shell Soup
I've seen all sorts of stuffed shell recipes on Pinterest. They look delicious. Besides, I have a box of big shell pasta in my pantry that wants to be used.
One idea is to make stuffed shell soup from Monkey and Me Kitchen Adventures.
---
39. Farro Vegetable Soup
I've tried various vegan canned soups, but most aren't good. Granted, I like homemade soup way better.
Make farro vegetable soup from Two Market Girls.
---
40. Cream of Mushroom Soup
The secret ingredient to hashbrown casserole is a large can of cream of mushroom soup. My family got this recipe from one of my aunt's friends roughly 20 years ago. Family gatherings have never been the same since.
For a soup alternative, have vegan cream of mushroom soup from It Doesn't Taste Like Chicken.
---
41. Pozole Verde
If you're by the fresh tomatoes at Hy-Vee, you may find green, circular produce with a matching leaf wrapper on top. Those are tomatillos, the stars of a famous Mexican stew called pozole verde.
Make vegan pozole verde thanks to Dora's Table.
---
42. Winter Bisque
I'm not that big of a fan of bisques because they taste like baby food with how creamy they are. Maybe I should try more recipes to prove myself wrong.
If you beg to differ, here's winter bisque from Vegan Yack Attack.
---
43. Potato Soup
This spring, I want to buy a small grill to cook slices of potatoes, corn on the cob, vegan brats, etc., on the grill. I haven't had grilled food since going vegan, and I miss that grilled taste.
If you prefer soup, have potato soup from Nora Cooks.
---
44. Hot and Sour Soup
I tried a premade version of hot and sour soup, and it wasn't that good. Granted, homemade soup is way better than any store-bought options.
Make hot and sour soup with the help of WoonHeng.
---
45. Cheeseburger Soup
I've been to many burger places while traveling, from McDonald's to Culver's to Burger King. Even though most of my family tended to order burgers, fries, and some ice cream, I was the oddball who ordered some form of chicken without condiments because burgers aren't my thing.
Now that I'm vegan, I act even weirder at these fast food joints by being the rude one of the group who uses their bathroom and waits around at a table until everyone else gets their food.
If some form of cheeseburger sounds good right now, make this cheeseburger soup from Connoisseurus Veg. You may like these burger recipes.
---
46. Italian Wedding Soup
I am at least a fifth-generation American and more depending on the side of the family. In other words, my heritage is a mixture of a few European countries, mainly German and Irish, and I hardly have any culture or traditions besides American. The one family heirloom we had, the family Bible from Ireland, burned in a house fire.
When we met my future sister-in-law's family, we weren't used to anyone or anything a hint Italian besides Pizza Ranch and Tortino's Pizza Rolls. My youngest brother was audacious to tell the grandfather that Pizza Ranch pizza was better than Italian pizza. That was stupid to say to someone who lived in the Italian-American borough of Pittsburg for over eighty years. No one questioned the grandfather's judgment.
For all of the Italian foodies, try Italian wedding soup from FoodByMaria.
---
47. Chicken Noodle Soup
The saying is chicken noodle soup makes the flu go away. Even though that's not how illness works, many point out how soup helps relieve congestion.
Make vegan chicken noodle soup with the help of Make It Dairy Free.
---
48. Udon Soup
I have been to one Japanese restaurant, probably the only one in the great Cedar Rapids. The main reasons I was there were I went out to eat with my friend before attending a concert and because her husband worked there.
Eating vegan at a Japanese restaurant is difficult. At least I learned that salted edamame is delicious, and I still eat it today.
In terms of Japanese soups, have udon soup from Choosing Chia.
---
49. Veggie Pot Pie Soup
Years ago, I tried making a Halloween pizza pot pie because the recipe looked adorable. The problems were I wouldn't say I liked pie, and I had no clue how to make pie. That was a recipe for disaster.
Today, I accept my lack of fondness for baking because it is a lot of work and a mess for an expensive treat. I'll leave that for the pros.
Here's a veggie pot pie soup from Karissa's Vegan Kitchen. You may like these pie recipes.
---
50. Sopas
When I ran cross country and track in high school, I had a cute little eating routine right before a meet. I warmed up a bowl of Kraft mac and cheese in the band room microwave while I changed into my uniform. Then, I ate it on the bus ride there. After running, I had an apple and a decent amount of water.
For a switch of routine, sopas is a Filipino macaroni soup. It's nowhere close to the macaroni I grew up with and enjoyed, but so many people like it. Make vegan sopas with the help of The Foodie Takes Flight.
You may like these mac and cheese recipes.
---
Conclusion
Soups come in all sorts of flavors and from numerous cuisines, from the classic chicken noodle soup to dduk guk (Korean rice cake soup), from avgolemono (Greek lemon rice soup) to mulligatawny (Indian curry soup), and from sopas (Filipino macaroni soup) to menudo (Mexican tripe soup).
Even though a lot of these soups aren't naturally vegan, they can all be made vegan with the help of some vegan alternatives and a dash of creativity.
Stay tuned for my next blog post on vegan turnip recipes. Ciao for now.